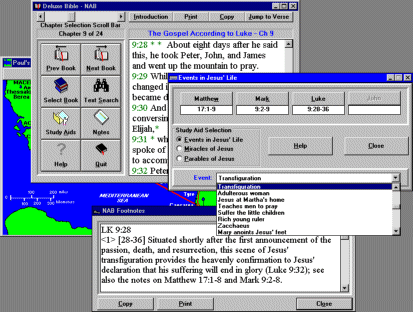 The Deluxe Bible for Windows search and study program contains the full King James Version of the Bible in an intuitive, easy-to-use, 3-D interface. The natural Windows user interface is so carefully crafted that children and adults will become proficient after just a single session.

Included is a powerful text search, 62 Hammond color maps, Easton's Bible Dictionary, built-in word processor, timelines, bookmarks, personal notes linked to Scripture, a tutorial, context-sensitive help, and study-aids with topical hypertext links. Instant access to the Scriptural accounts of over 200 biblical events, miracles, and parables is provided with the exclusive hypertext feature. Events in Matthew, Mark, Luke, and John are cross-referenced. Personal notes may be attached to any chapter. Your individual notes may be located at any time by using the notes search and locator functions. Detailed Old and New Testament timelines show biblical as well as historical events on the same time scale.


Pricing
| Description | SKU # | Price |
| --- | --- | --- |
| Version 3.0 | KJVDB3 | $39.95 |
| Version 3.0 upgrade* | KJVDB3U | $19.95 |
*Version 3.0 upgrade is for those who purchased a previous version of the Deluxe Bible.